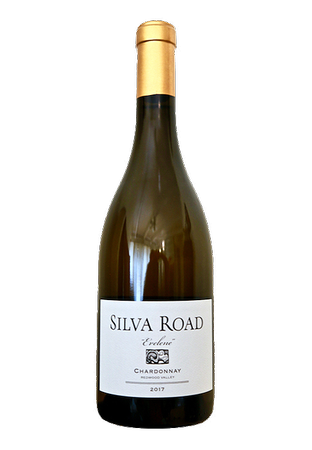 2017 Chardonnay
Redwood Valley AVA
Silva Road Estate's 2017 Chardonnay is the epitome of a fine white wine. Enjoy flavors of green crisp apple, minerals, citrus, and clarity. Although aged in oak, the wood frames the beautiful artwork that is this wine.
Wine Specs
Appellation
Redwood Valley AVA
Wine Profile
Tasting Notes
This 2017 Chardonnay is a delightful and refreshing wine, with a perfect balance of fruity and mineral notes. On the nose, it presents crisp aromas of green apple, giving a fresh and zesty character to the wine. As you take a sip, you'll immediately notice the subtle mineral notes, which add complexity to the wine and give it a sense of depth. The finish is beautifully rounded and lingers on the palate, revealing hints of citrus, which give the wine a bright and juicy character. Aged in French oak, this Chardonnay is subtly enhanced by the natural flavors and aromas of the barrel. The oak contributes a subtle vanilla and buttery note to the wine, which beautifully complements the crisp apple and citrus notes. Overall, this 2017 Chardonnay is a delicious and well-balanced wine, perfect for enjoying on its own or with light meals.
Vineyard Notes
Silva Road Vineyard is owned by Ethan Silva and his sister, Josephine and is located in the middle reaches of the Redwood Valley AVA, at an elevation of 975 feet. Here, the Silva Family grows organically farmed Chardonnay and Cabernet Sauvignon on a rocky bench above the headwaters of the Russian River. In contrast to surrounding growing regions, the Redwood Valley is considerably cooler than other areas in the Ukiah valley, producing Chardonnay and Cabernet Sauvignon that slowly matures with elegance and pedigree.