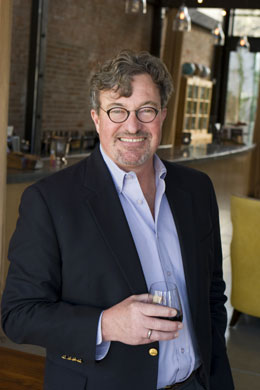 Kerry Damskey
Master Winemaker
Dubbed the "Wandering Winemaker " by friends, Kerry Damskey has been infusing his love of the land and adventure into every aspect of life. Winemaking is the passion fusion of Kerry's scientific mind and adventurous heart. Kerry believes wine is made in the vineyard and the winemaker is merely the "midwife" in the artisan process of winemaking. "It's the winemaker 's job to articulate a definable style for a wine but you don't create an identity- that must come from the grapes," says Kerry.
Today, with more than 30 years of winemaking experience, Kerry is recognized on four continents for his acuity and focus in creating brilliant wines. Kerry holds a Bachelor of Science in Fermentation Sciences from the University of California, Davis, is a graduate of the Intensive Program for Small Business at the Stanford University School of Business and is a candidate of the Institute of the Masters of Wine. Damskey is a four -time winner of the Sonoma County Wine Sweepstakes award and has received numerous other prestigious honors for his wines.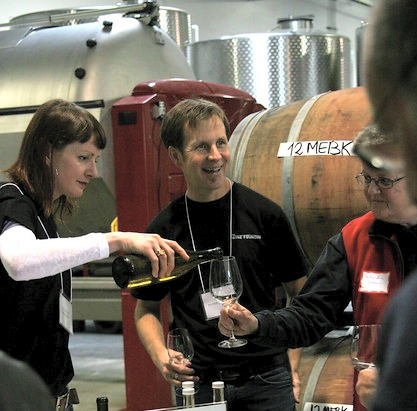 Patrick Saboe
Director Wine Making
In 1996, Patrick Saboe was reshaping the Charleston, SC restaurant scene at nationally lauded Slightly North of Broad, when a honeymoon to California's wine country changed his life. What began as an excuse to celebrate nuptials, transformed into a journey in pursuit of the perfect fermentation. Toward this end, Patrick traded kitchen tools for winemaking textbooks by enrolling in the Enology & Viticulture program at U.C. Davis.
While attending Davis, Patrick worked at Robert Sinskey Vineyards and assisted Dr. Andy Walker in the Pierce's Disease Resistance Rootstock Breeding Program. Upon graduation, he became Harvest Enologist for Hanna Winery before becoming the Assistant Winemaker at Keller Estate. Here, Patrick gained valuable experience working closely with renowned winemaker, Michael McNeill (Hanzell), to produce multiple award-winning wines.
In 2006, he became Winemaker and Vineyard Manager for Petroni Vineyards as well as Consulting Winemaker for Verismo Wines. In 2008, Patrick accepted the Director of Winemaking position at Pezzi King Vineyards. These experiences were a perfect fit for his next ventures as Winemaker for Crushpad and Director of Winemaking at The Wine Foundry.
Patrick's winemaking philosophy is simple: exceptional wines are made from exceptional fruit with exceptional care. Consequently, he collaborates closely with the numerous growers who partner with The Wine Foundry, assuring that quality is paramount.
When not treating each client barrels as his own, Patrick spends time with his wife Dawn and three children Maddy, Claire and Jackson in Petaluma.
Eric Hansen
Winemaker
Now retired, Eric's professional involvement with wine started at Cline Cellars in Sonoma, where he managed the tasting rooms at both Cline and Jacuzzi Family Vineyards. He moved to the production side as a wine lab technician at Crushpad, then with Etude in Sonoma before joining the winemaking team at The Wine Foundry.
You are reading this biography on either a large, medium or handheld sized computer screen. You can thank Eric Hansen for that. Eric began his professional career at Intel, where he worked to introduce people to a revolutionary device called the personal computer. From there he began a long career as a software consultant, working with a long list of companies ranging from Stanford University and the California Teachers Association to Williams-Sonoma, Levi Strauss, Price Waterhouse Coopers, and Chevron. Without firing a single shot, Eric and his fellow revolutionaries won the war and now the entire planet is fluent in dotcom. He caught the wine bug with the help of a client who was also an unabashed oenophile, and eventually decided to jump in with both feet. Extensive reading, tasting, and classes at UC Davis, Napa Valley College and Las Positas College soon followed.
Eric loves wine, food, golf, fly-fishing, Italy, and his wife Maureen (not necessarily in that order).