The Silva Family Vineyard
The Quest
The Silva family sought a vineyard farm that could provide roots for a multi-generational family wine making enterprise. They acquired their beautiful vineyard estate in 2014, as place to call their extended family's home. With care and guidance of their vineyard managers, the noted Frey family, the vines have flourished.
Organic Viticulture
Nestled in the Redwood Valley AVA, a region noted for historic, 19th century vineyard cultivation, the Silva Family's vineyard was first planted with grapes by a winemaking family in the 1970s. Organic and biodynamic practices have enriched the soil and nurtured the vines. Intermittent irrigation and dry farm hydration methods have cultivated deep, resilient, roots over time. These draw moisture and minerals from deep in the earth. The Silva Family continues to celebrate organic viticulture methods and, to this day, the vineyards themselves are Certified Organic.
Meteorology
Situated between 760 and 800 feet elevation and entertaining strong diurnal temperature changes, the vines develop succulent fruit with good acidity. The warm days allow the grapes to physiologically mature giving them lushness and texture. The cool nights prevent the fruit from fully metabolizing. This retains the grape's acidity and maintains good color in the Cabernet.

Redwood Valley AVA
Though the Redwood Valley American Viticultural Area was formally anointed an AVA in 1997, the region has enjoyed a rich history in both vineyard cultivation and in California legend. 1
"Italian and Greek immigrants were the first grape growers to establish vineyards in the late 1880s. They sought out the benchlands above the headwaters of the Russian River where the soils were well-drained, the climate permitted the grapes to mature, but was still cool enough to allow the grapes to ripen slowly to enhance the deep, rich flavors of the grapes." The characteristics of the physical environment lends itself to both organic and dry farming practices. A gap in the coastal ridge allows air currents from the Pacific to flow into the Valley, bringing cool, penetrating breezes. The remarkable' Red Vine Soils' originating from weathered sand stone, brittle but highly water retaining, provides a unique terroir to the wines. 2, 3, 4
Situated in the east central, interior portion, of Mendocino County, California, the location was once called 'Basil' by the railroad. The infamous Black Bart frequented the area. Legend still abounds of the 19th century 'gentleman bandit' with a repute for panache, sophistication and poetic missives. It wasn't until the local Post Office opened its doors in about 1920, that 'Redwood Valley' came to be.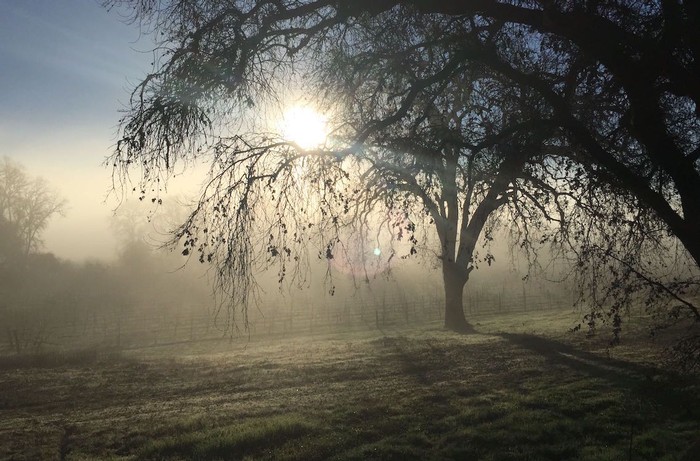 1 Code of Federal Regulations. "§ 9.153 Redwood Valley." 27: Alcohol, Tobacco and Firearms; Part 9 — American Viticultural Areas; Subpart C — Approved American Viticultural Areas. Retrieved July 18, 2018. https://www.law.cornell.edu/cfr/text/27/9.153
2 A Taste of Redwood Valley. https://www.tasteofrv.com Retrieved July 18, 2018.
3 Mendowine.com."Appellations; The Lay of the Land". Retrieved July 18, 2018. http://www.mendowine.com/wineries/appellations-info.php
4 Wines and Vines (Dec. 2011). McGourty, Glenn. "Grounded Grapegrowing: Celebrating the Soil That Gives Us Wine. Retrieved July 18, 2018. .https://www.winesandvines.com/columns/section/88/article/94742/Celebrating-the-Soil-That-Gives-Us-Wine